Ummeed In News
This is Ummeed Housing Finance Pvt. Ltd.'s Media Centre, here you can have a glimpse of our corporate and brand announcements. You can also access our press releases, media reports, interviews and articles across print, online and electronic channels.
Ummeed Housing Finance raises $3.5 mn from Lok Capital, Duane Park
Delhi-based Ummeed Housing Finance Pvt. Ltd has raised $3.5 million (around Rs 23.4 crore) in a Series A round of funding from impact investor Lok Capital and Duane Park.
The affordable housing finance company focused on north and central India will use the funding to expand and invest on technology to enhance operating efficiency, it said in a statement.
Ummeed aims to differentiate itself by leveraging technology, including going paperless and using tablets—which can help study customers, run algorithms for credit scoring and disburse loans at a faster pace—at branches.
Vishal Mehta, co-founder and partner at Lok Capital, and Anurag Bhargava of Duane Park will join the board of Ummeed. Alok Prasad, former CEO of Microfinance Industry Association (MFIN), will also join as a non-executive board member.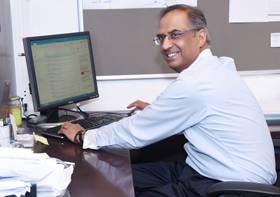 Ashutosh Sharma, Founder & MD, Ummeed Housing
Finance
Founded in January 2016 by Ashutosh Sharma, a banker with over 25 years of experience at Citibank, HSBC and Bank of Montreal, Ummeed focuses on providing housing finance access to families with low, informal income.
The company is backed by a team of former Citibank professionals, who have experience in commercial banking, credit and mortgage.
Sachin Grover, chief operating officer, has over 20 years of mortgage experience at Citi Financials, IIFL and Magma Housing. The operating team consists of professionals with mortgage experience at Magma, AU Housing Finance and Shubham Housing Development Finance Company.
"The company targets families that have semi-formal or informal incomes and comprise the bottom-of-the-pyramid, remain largely under-served by housing finance companies and banks for loans below Rs 10 lakh, making them dependent on local money lenders," said Sharma.
The firm is currently operational in east Delhi and plans to have 11 branches across north and central India, targeting 1,500 customers in 12 months.
Lok Capital
This is Lok Capital's maiden investment from its third fund Growth Catalyst Partners (GCP), and the third investment in this sector, following earlier investments in Aptus Value Housing Finance and SEWA Grih Rin. In 2015, SEWA Group raised equity funding of Rs 13.5 crore ($2.15 million) from a consortium of investors, including Lok Capital for its housing finance company SEWA Grih Rin Ltd.
Housing finance firms
Several housing finance companies have been looking to grow business and loan portfolios by consolidating their market share in the affordable housing segment. These firms have seen keen interest from private equity players.
Recently, North-focused Shubham Housing Development Finance Company Pvt. Ltd has started a process to raise its fourth round of Rs 265 crore in private funding, as the Gurgaon-based mortgage lender looks to meet demand for small-ticket loans and grow its balance sheet.
Last month, Chennai-based Aptus Value Housing Finance raised Rs 270 crore in a follow-up round from WestBridge Capital Partners LLC and Caspian Impact Investment Advisors.
In July, Carlyle-backed PNB Housing Finance Ltd filed its draft red herring prospectus for an initial public offering to raise up to Rs 2,500 crore.
Mortgage lender HomeFirst Finance Company too is reportedly looking for funding.
The potential of the Indian affordable housing finance segment is pegged at Rs 8.8 trillion (around $135 billion), according to a Monitor-Deloitte study commissioned by World Bank and the National Housing Bank. However, the portfolio of existing affordable housing players is only Rs 6,500 crore (around $1 billion).